"Speed's what we need. Greasy, fast speed!" – Mickey Goldmill, Rocky II.  This famous quote from Rocky II is also relevant in the golf world.  In boxing, power and strength play a factor when you throw punches.  When you throw speed into the mix, that's when you become dangerous.  Power and strength also play a factor in your golf swing.  
When you generate speed, the power you put behind the ball increases giving you more distance off of the tee.  We know distance isn't everything but why is speed such an important factor in the golf swing?
Although distance may not be everything, it sure does help when you have a shorter distance to the hole on your next shot.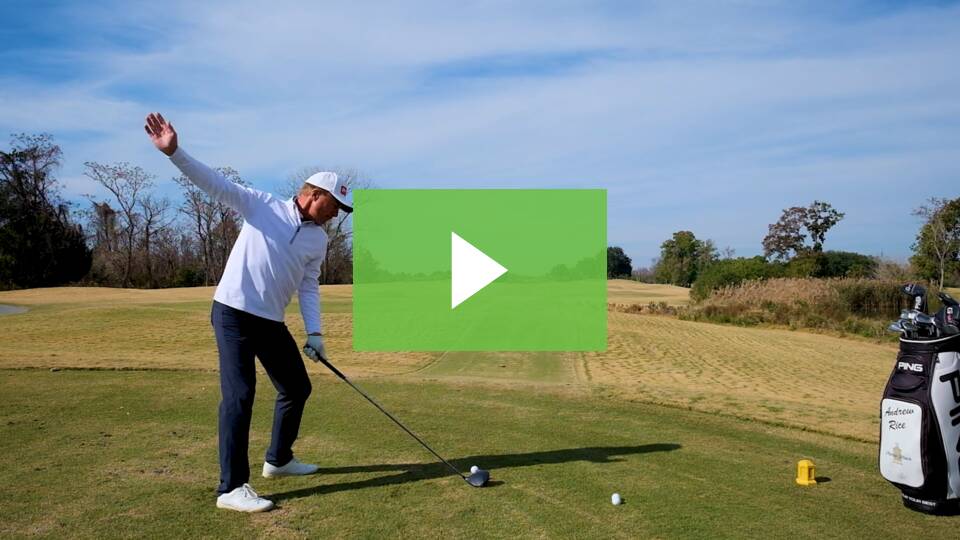 Description: Watch how you can generate more clubhead speed and distance with your driver in the video above
Speed plays an important role in creating this extra distance.  For every MPH faster your clubhead speed is, you gain an extra 3 yards.  
Imagine this.  If you're currently sitting around 90 MPH clubhead speed with your driver, you're probably averaging around 215 yards off the tee.  If you increase your clubhead speed to 98MPH, your distance jumps to around 240.  
That's 25 yards of extra distance.  That extra 25 yards could make the difference and have you going from hitting a 5 iron to hitting an 8 iron.  If you start doing that consistently, golf becomes a little easier.  When you hit the ball a little further and have control, you can stay aggressive without trying to guide the ball.   What can you do to start generating more speed?
Practice With Intent
Practice? Yes, we're talking about practice!  Golf is one of those sports where you have to build up muscle memory to become a good player.  This means we have to practice if we want to get better.  
It's one thing to go out and mindlessly beat balls on the driving range.  Where you will really improve is when you practice with intent.  
Sometimes it is hard to know what to practice but we can help! 
Check out our 300+ archived daily video tips by becoming an ELITE Member.
The next time you're out on the driving range, try being intentional in your practice.  Start by doing 2-3 sets of 5 driver swings as hard and as fast as you possibly can.  
We say only 2-3 because when you start going as hard and as fast as you can for thirty plus times, that becomes a nightmare for your body.  
Don't be afraid to over exaggerate this either.  If you have ever watched any long drive competition, their swings look ridiculous compared to a normal driver swing.  
The reason they have those swings is because their goal is to hit the ball as far as possible, which is what we are trying to achieve with this practice session.
You will want to hit your five drives, then take a break.  Then repeat that process once or twice more.  You will find after you do this a couple of times, slowly but surely, your muscles, joints, limbs, and tendons will start to get accustomed to that increase in speed.  As you begin to increase your speed, the faster swings will start to feel more normal
On the course we want you to feel normal, but on the practice range, we want you to push the envelope and increase that speed.
Lengthen Your Hand Path
Another key to more speed is lengthening your hand path and backswing.  When you lengthen those, it gives you more time to generate energy that will be applied on your downswing.  More energy equals more clubhead speed, more clubhead speed equals more distance off the tee.  You can't just make your backswing magically longer, you have to build your muscle memory up.  
Here is how you can do it:
Setup to the ball and hold onto the club with your lead hand.

Keep your eyes on the golf ball and take that trail hand and stretch back as far as you can go without taking your eyes off the golf ball
This gives you the sense of what it should feel like when you take the club further back.  Initially, it may not look as if you're taking it back significantly further, but you sure will feel it.  Plus, it's just a good stretch to get those muscles loosened up.
Conclusion
Hitting the ball further has great value towards lowering your scores.  When the ball is closer to the hole, the easier this game becomes.  If you put in the work and practice with intent and lengthen your hand path, you will start to notice a difference in your clubhead speed.  Next thing you know, your distance has increased by 20-30 yards and you're having a ton of fun out on the course!